Subscriber Login

Log in to update your email preferences, access and search past issues and articles, and more!
Need help? Click here.
Social Media Online


Audio Conferences
Marketing Solo and Small Law Firms Online: Practical and Ethical Issues for Attorneys
Thursday, October 29
2:00 p.m. Central / 3:00 p.m. Eastern
60 Minute Webinar
Gain CLE and learn practical, effective, and ethical legal marketing techniques for small and solo law firms.
Streamlining Child Support Recovery: A Step-by-Step Process for Tennessee Attorneys
Friday, October 30
2:00 p.m. Central / 3:00 p.m. Eastern
60 Minute Webinar
Gain CLE and get tips from a Tennessee Assistant DA on how to streamline the process of collection child support.
Engaging Clients Online: Attorney Guidelines for Websites, Blogging, and Social Media
Monday, November 3
2:00 p.m. Central / 3:00 p.m. Eastern
60 Minute Webinar
Learn how to improve your firm's or practice's online presence while ensuring compliance with applicable ethical and bar guidelines at this interactive, live event.
Estate Planning in Tennessee: Protecting the Family Wealth
Wednesday, November 5
2:00 p.m. Central / 3:00 p.m. Eastern
60 Minute Webinar
Learn how to use estate planning to protect your clients' family wealth from an attorney who helps clients protect their family assets from "outsiders" such as creditors, ex-spouses, and divorcing in-laws.
On-Demand Courses
TAM On-Demand CLE courses are instantly available online audio conferences on a variety of topics of interest to the Tennessee practitioner. These events are presented online through our partner Coggno.com, a leading e-learning platform compatible with any make of computer. You will be required to create a free account with Coggno. For more information, click here.
Advertise in TAM
For more information, click here.
TN General Sessions Handbook Updates
Click here to download the updates.
Law Students
TAM Online is now available FREE to all law students! Click here!!
A listing of highlights from our current issue.
U.S. Supreme Court begins 2014-15 term
Our current lead story.
TAM CLE Center
Learn more about TAM's on-site CLE events, audio conferences, and on-demand courses
TAM Live Events
---
Interested in sponsoring or exhibiting at our events? Click here for rates and information!
---
---

2014 Probate & Estate Planning Conference for Tennessee Attorneys

October 23-24, 2014
Nashville School of Law
Nashville, TN
---

Law Conference for Tennessee Practitioners

November 13-14, 2014
Marriott Cool Springs/Franklin
Franklin, TN

---
2014 Tennessee Workers' Comp Conference


November 20-21, 2014
Embassy Suites Nashville — South/Cool Springs
Franklin, TN
---

2014 Family Law Conference for Tennessee Practitioners


December 4-5, 2014
Nashville School of Law
Nashville, TN
---
2014 Tennessee Real Estate Law Conference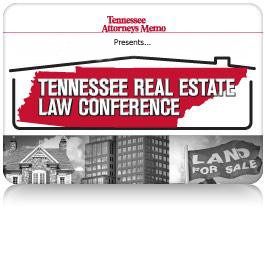 December 12, 2014
Nashville School of Law
Nashville, TN
Legal News
Click on the links to learn more.
Judges block access to Vanderbilt rape case records
The Tennessee Court of Appeals has denied access to records related to a Vanderbilt University rape case in which four former football players await a November trial.
Haslam Appoints Carr Chancellor for 30th Judicial District
Tennessee Gov. Bill Haslam has appointed Oscar C. Carr III of Memphis as chancellor for the 30th Judicial District, which serves Shelby County. He replaces Kenny Armstrong, who was recently named to the Tennessee Court of Appeals.
Group says pregnant women unfairly targeted
The human rights non-profit National Advocates for Pregnant Women is ramping up its activity in Tennessee in response to two pieces of legislation it views as problematic.
Appeals court to state: Turn over IDs of executioners
Tennessee has to turn over the identities of executioners to attorneys representing 11 death row inmates challenging the state's death penalty, according to an appeals ruling.
US announces policy on ineffective lawyer claims
The Justice Department says federal defendants who plead guilty will no longer have to give up their right to future claims that they had bad lawyers.
Elon Law to cut total tuition by nearly $14K and offer law degree in 2.5 years for all
Elon University School of Law has announced the creation of a new curriculum that represents what the school is calling a groundbreaking new model for legal education.
Local parents sue state over naming their baby
Carl Abramson and Kim Sarubbi married in 2001, and decided "for personal and professional reasons" they would give their children a surname that combined both their last names, a clerk with the U.S. District Court for Middle Tennessee said.
Public Comments Deadlines